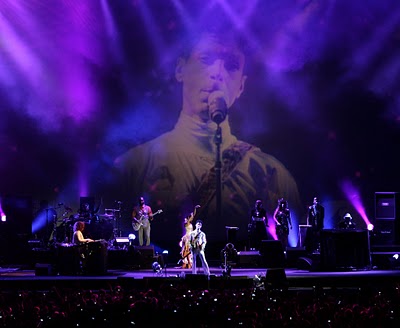 PRINCE Nikaia,Nice July 2010 The Sacred and the Profane
In the last 3 or 4 summers I've seen a few great shows in the south of France. Bob Dylan played at Le Cannet an unprepossing suburb of Cannes in a municipal hall called La Palestra that seems to have been mainly used for boxing tournaments. He was amazing in the way only he can be. I saw the Rolling Stones play the stadium in Nice. They beat the previous attendance record of 50,000 plus formerly held by U2, which they had themselves taken from the Stones, and which they were likely to have regained had they played there July 15th this summer, as was originally planned. The Stones show was extraordinarily well structured to allow a bunch of over- sixties to play a 2 hour stadium set,with solos, solo spots, accoustic sections and multiple changes in stage sets. The two key 20 minute bursts at the beginning and especially at the end surprised even my 'seen it all before' persona and I found myself with my mobile in the air during 'Sympathy for the Devil' for my wife, who was at home, to hear. By the way that can't be said of supporting band Kasabian.Their singer came out dressed in black, which ensured none of the crowd could see him, as opposed to the Stones who all wore something glittery or shiny and could be seen from anywhere. He then announced 'Bonjour France' or something like that, and immediately lost the crowd,whereas Mick Jagger came out and made a 5 minute intro in perfect French, along the lines of 'good evening,its a beautiful evening here on the cote,we're here to rock and roll etc…' and had the audience eating out of his hand before he'd sung a note. When the singer got to 'we're Kasaaabian' in that horrid mock manc drawl they've all affected since the Gallaghers it was all over,certainly for me.
Given how memorable Dylan and the Stones had been I rolled up to Prince with some excitement. I'd seen him a few times before and I'm a huge fan, but hadn't seen him for a while.
Rumour in Nice Matin suggested Prince had wanted to be part of the 'Jazz at Juan' Festival which was celebrating its 50th Year Anniversary since its beginning in Antibes in 1960,and this was the closest he could get. Starting with Sidney Bechet and followed by Louis Armstrong,Dizzy Gillespie and many others this has been one of the greatest jazz events in history and its no surprise that someone as intimately connected to the traditions of his music as Prince should want to pay tribute by participating. He managed on the night to do a good deal more than that, opening with 'Purple Rain' he stormed through 'Let's Go Crazy! Pt1' into 'Delirious' then 'Let's Go Crazy Pt 2' and followed that with '1999.' I danced for two hours.
I'd been listening to Sam Cooke live at the Harlem Square Club in Miami in 1963. He had the gospel feel and fervour that he had when he was in the Soul Stirrers, but of course by 1963 he was also a musician of the flesh "Don't fight it…feel it. Don't fight it…feel it!" he called to the crowd, and to himself. The contradiction between doing God's work and the Devil's work runs right through the music coming directly from the blues and gospel dichotomy. It runs through Prince's music to, and the atmosphere at the gig was as close to the Harlem Sq Club as a stadium show could be. "Dearly beloved we are gathered"…I had seen Prince play a club date in Camden Town in the '80's,an aftershow party following a Wembley Arena concert at which he went on at 1.30 and by 4.30 was into an extended version of The Temptation's 'Just My Imagination'. Prince's knowledge,respect and command of his music tradition showed in Nice. Just as Bob Dylan's 'Theme Time Radio' show demonstrated the enormous depth of knowledge and the inspiration he can draw from, so Prince's love of jazz, gospel, funk, r&b,rock and soul shines through his music, as his encores after 'Little Red Corvette' and 'Kiss' showed, including songs from the Jackson 5, 'Everday People' and 'I Wanna Take You Higher' from Sly & The Family Stone and finally 'Dance (Disco heat) by Sylvester. Actually Bob Dylan who is reportedly unhappy with video screens could take a tip from Prince's brilliant use of video technology. He had screen behind the stage so we watched the close-up through the live band and stage lighting which meant it was able to intensify the visuals rather than distract.


We read a lot about the 'strangeness' of Prince's life.Just recently he has been criticised for 'giving his new album away' and casting doubts on the internet.It's always interesting with him, remember the Prince merchandising shop in Camden market? In Nice he checked out of his hotel because the decor offended him, probably correctly. Does any of this obscure his place amongst the greats of music? No. He has listened carefully and has with courage and dedication forged a unique contribution to music,and earned his place, not just amongst the stars, but amongst the legends. Salut!
http://www.dougdarcy.com/wp/wp-content/uploads/2014/01/PRINCE-NICE_1024.jpg
328
400
admin
http://www.dougdarcy.com/wp/wp-content/uploads/2018/06/dougDarcyLatoWhite.png
admin
2010-08-25 16:09:00
2015-03-23 22:47:20
PRINCE Nikaia,Nice July 2010 The Sacred and the Profane