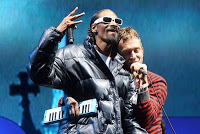 My first festival was the Cleethorpes Jazz Festival in 1963. I'd read 'On the Road' by Jack Kerouac and decided that's the life I wanted. Going to Cleethorpes seemed a step in the right direction,on the beatnik trail. I don't remember how I got there,whether I had a ticket or just gatecrashed, but I do vividly remember the sleeping rough and listening to Johnny Dankworth and quite a lot of the trad jazz that was popular at the time. It was the year the Stones were the first rock and blues band to play the National Jazz Festival at the bottom of the bill, I wasn't there but I heard on the grapevine they were a sensation. They topped the bill the following year, I suppose that makes it the first rock festival. Since that time my festival-going has always been in a working capacity and I've never since shared the experience of camping out for three days listening to bands and hanging out and all that.
I've been to the Glastonbury festival a few times. I've had good experiences there. The Waterboys were regular performers in the mid- 80's. Most memorably Spiritualised headlined the NME stage on the closing Sunday night for two consecutive years in 1993 and 1994, with incredible performances. Jason Pierce playing along with and through the fireworks display in 1993 was literally astonishing. My main impression of Glastonbury has always been the atmosphere amongst the crowd.I've never failed to leave the festival without being reassured by the generous good spirits and enthusiasm of the,mainly young, audience.
I was there again this year on the 40th Anniversary,my second only festival as a spectator,to see Gorillaz headline the Friday night. I hadn't been to Glastonbury for perhaps ten years and I was a bit shocked when I arrived. The site has grown exponentially, someone told me its now somewhere between 800 and 1,00 acres. The support services have grown along with it,endless fences, security checks, trucks,acres and acres of catering stalls and BBC outside broadcast vans as far as the eye can see. I wandered around a bit, but on a site of this size I found it slow to and difficult to get round and bumping into people I knew, Mike Pickering and his mates watching the bands and the World Cup, was a bit of a surprise. I saw some of Vampire Weekend, a fair bit of a pretty routine performance from Dizzee Rascal (including a surprisingly lacklustre duet with Florence) and Gorillaz.
I hadn't seen Gorillaz before, and as they came out I realised that neither had most of the more than 120,000 crowd. At the same time I also realised many of them probably hadn't heard the latest album. My jaw dropped a bit. Its bold going out on a headline stage with a new band and new album even for Damon Albarn. It turned out not to be a cartoon band relying on digitally generated visuals,but a kind of musical and social tour d'horizon.The featured artists included Mos Def,Mark E Smith of The Fall,Bashy,Kano,Bobby Womack,Shaun Ryder of Happy Mondays,Snoop Dogg and Lou Reed backed by a band that included Mick Jones and Paul Simenon. Exploring social issues via the intersections of contemporary pop music over the last two or three decades made for a fascinating show.I'd listened in the sound booth and making make way back during the last song the crowd seemed as engaged as I was, enough for me to be dragged into dancing quite a lot on the way.I loved that, and I was elated. It helped with all that hanging out I hadn't done.
I got back to London on Saturday evening in time to have dinner with my close friends and neighbours Sarah and Sandy Lieberson. We chatted about Glastonbury. Sandy had produced the first film about the Glastonbury Festival, not the first festival in 1970 but the second in 1971 directed by Nic Roeg, and remembered something that really struck me. He told me that in 1971 there was free water, milk, juice, tea and coffee for everyone at the festival. That impulse seemed so at odds with contemporary festival economics. I suppose I shouldn't have been surprised, after all it began in 1970, and was inevitably influenced by the counterculture of the time. I'd been reading about the history of the counterculture in Barry Miles' book 'London Calling'. He writes about a conference called the 'Dialectics of Liberation Congress' held at the Roundhouse over two weeks in 1967.It covered topics such as Gregory Bateson proposing the theory of global warming saying it would be at least 25 years before the effects would be noticed, R D Laing and David Cooper discussing the pressures of society on the individual, John Gerassi and Paul Sweezy discussed monopoly and global capitalism and Herbert Marcuse spoke on 'Liberation from the Affluent Society'.The instincts, ideas and impulses behind that meeting have driven our contemporary culture, thank goodness. Nuclear disarmament, global warming and the problems of global capitalism are now the central issues for all governments so the counterculture was influential in those topics, although I don't know where we are on the liberation of the affluent society.
I found myself wondering about the impulses that created Glastonbury and have driven it forward.On the one hand the virtues of an undoubtedly good and eclectic booking policy, continued commitment to social issues, support for charities, great staging, care for the community attending and massive enthusiasm from headlining musicians, who all perform for perhaps less than they earn elsewhere, has given succeeding generations a great festival and an invaluable rite of passage. On the other hand it is now firmly located as an expensive social networking opportunity with all the overtones of celebrity society. Gorillaz were roundly criticised by the media for their show. Since it was a first I'm sure it will get better, but they were criticised for their risk taking, for not playing the crowd pleasing anthems the media felt the audience wanted. That seems to me to make assumptions about what Glastonbury has become.There are now lots of independent festivals using a similar model to Glastonbury all trying to present an alternative face. I don't know anything about them although I gather that at the Hop Farm Festival that Van Morrison and Dylan played people were searched as they entered to make sure they didn't bring their own drinks depriving a corporate drinks sponsor of captive sales. I also notice they run a military display a couple of weeks after their festival called The War and Peace Show. I suppose I question the impulses behind of all of this activity.How real is the committment to social causes and how much of it is simply a corporate culture looking for consumer-friendly branding? I'm sceptical now about all this, and it may sound odd given how many artists are playing these shows, but how central is music actually to it?
Barry Miles quotes Emmett Grogan, representative of the San Francisco Diggers, addressing the Dialectics of Liberation meeting thus "Our revolution will do more to effect a real inner transformation than all of modern history's revolts taken together!…Nobody can doubt the fact that during the last year,an environmental revolution of the most momentous character has been swelling like a storm among the youth of the West…Power to the people" Grogan got an ovation, he waited til it died down then said "I neither wrote nor was the first person to have given this speech…I do know who did, it was Adolf Hitler and he made his delivery of these same words at the Reichstag in, I believe, 1937.Thank you and be seein' ya' "
Liberation from the affluent society isn't a matter of of presentation.It may need a different starting point and also take a little more rigour in our choices. Its not just a consumer choice is it?
http://www.dougdarcy.com/wp/wp-content/uploads/2014/01/snoop-gorillaz-glastonbury-2010.jpg
134
200
admin
http://www.dougdarcy.com/wp/wp-content/uploads/2018/06/dougDarcyLatoWhite.png
admin
2010-08-03 14:46:00
2015-03-23 22:47:43
GLASTONBURY 1970-2010