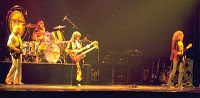 Peter Grant told me to book some warm-up college gigs for The New Yardbirds, which I did. I assume Richard Cowley and Kenny Bell booked the club dates. Peter subsequently appeared in our office to approve the bookings and tell me that the band now had a proper name, Led Zeppelin.
I protested a bit, the New Yardbirds would be a recognizable draw, but Peter leaned over my desk and looked at me…so Led Zeppelin it was. He was a charming, entertaining man who I'd first met when he was working for Don Arden, but I was always very respectful around him, and learned quite a bit. I don't remember going to any of the gigs, which seems strange now of course.
I didn't see them until they went on a subsequent tour of town halls in the UK, which the newly formed Chrysalis Promotions had organized. I remember going to, probably, the first show on the tour which may have been Birmingham or Sheffield. I was nervous frankly. My first concert tour had been with The Family, and I'd fucked up badly, amongst other mistakes, I had booked the Mecca or Locarno in Bristol because the Colston Hall wasn't available, but didn't realize that whilst the Colston Hall supplied local advertising the ballrooms didn't, resulting in an unusually poor attendance for a Family show that night. I traveled to the Zeppelin on the train, I couldn't drive in those days, worrying all the way that I might have made a mistake. I was more worried about looking stupid to the band than Peter's anger actually. In the end I survived, albeit with some piss-taking on the subject of my Alvin Lee tapestry trousers with the furnishing fringes on the bottom, and Zeppelin were astonishing.
For a few years there had been a lot of blues rock bands around playing the obligatory 'Dust My Broom' and lots of great guitarists, Eric Clapton, Peter Green, Alvin Lee, Jeff Beck and of course Jimmy Page. Then Jimi Hendrix arrived. Once here Jimi, and the psychedelic wave, transformed the level of artistic ambition in playing, performance and sonic conception and forced everyone to respond. Led Zeppelin was part of that response, transforming blues rock into something else.
I saw them quite a few times after that in the first part of 1969, and by June of that year I was working for the newly-formed Chrysalis Management. Terry Ellis had sent me, still without a driving licence, to America to tour manage Jethro Tull, who were supporting Led Zeppelin, on their third US tour. At that time a regular series of six to eight even twelve weeks tours of America was the norm. We all missed the Woodstock Festival that summer. Ten Years After were there of course but our US representative Dee Anthony was with them. Chris Wright was getting married in London and Terry Ellis was his best man. Led Zeppelin and Jethro Tull played an outdoor show on a racetrack in (I think) Laurel, Maryland around that time. I watched the first part of their show from the side of the stage, but Tull had to leave, so we watched the second half driving on a beautiful summer night, around the track to get back to the main road. We watched the last number from the far side of the racecourse, and Zeppelin seemed able to fill whatever distance we made. I remember thinking that night who can ever do this better? I hope they have a great reunion show.
http://www.dougdarcy.com/wp/wp-content/uploads/2014/01/ledZep.jpg
98
200
admin
http://www.dougdarcy.com/wp/wp-content/uploads/2018/06/dougDarcyLatoWhite.png
admin
2009-11-26 11:12:00
2015-03-23 22:48:11
Led Zeppelin Reunion