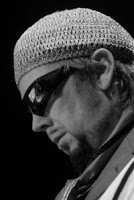 Gerry Dammers at the Queen Elizabeth Hall
Thankfully musicians continue to refuse, like horses led to the fence. Refuse to appear and disappear based on an idea of what they do, or shouldn't do, required by a view of music, which has a limited sense of the possible.
Gerry Dammers appeared at the Queen Elizabeth Hall like a magic genie…leading his Spatial A K A Orchestra into the hall and on to an incredibly designed stage, which immediately created an atmosphere in which anything could happen. Great musicians and singers, costumed and masked, performed arrangements of mainly Sun Ra material.
We in the audience were encouraged to gargle away, creating a vocal background for the intro to 'Ghost Town aka Ghost Planet', which became 'Nuclear War' featuring Anthony Joseph on vocals. Francine Luce provided astonishing vocals for 'I Wait for You'.
To play music of this complexity in such a beautiful and urgent way is unusual, but Gerry Dammers can do this and engage us in a mix of ideas and emotions of such intensity that anything seems possible.
SET LIST FOR JERRY DAMMERS' SPATIAL AKA ORCHESTRA
QUEEN ELIZABETH HALL June 20th 07
(All tunes selected and arranged by Jerry Dammers)
Springtime Again (Sun Ra)
Incidente in Fabrica (Enzo Scoppa)
Mayan Temple (Sun Ra)
Egypt Strut (Salab Rageb)/Ancient Ethiopia (Sun Ra)
Theme from the Excorcist (Mike Oldfield arr. Dizzie Reece)
Ringo Rock(Trad Japanese arr.Coxsone Dodd)/Love on a Far Planet (Sun Ra after John Coltrane)
Journey in Satchandanda (Alice Coltrane)
Om Nama Sivay/Battle at Armageddon (Alice Coltrane)
I'll Wait for You (Sun Ra) vocals Francine Luce
Where Pathways Meet (Sun Ra)
Ghost Planet (Jerry Dammers)/Nuclear War (Sun Ra) vocals Anthony Joseph
Soul Vibrations of Man (Sun Ra)
Space is the Place (Sun Ra) vocals Francine Luce
http://www.dougdarcy.com/wp/wp-content/uploads/2014/01/dammers.jpeg
200
134
admin
http://www.dougdarcy.com/wp/wp-content/uploads/2018/06/dougDarcyLatoWhite.png
admin
2009-11-26 11:09:00
2015-03-23 22:48:25
Gerry Dammers at the Queen Elizabeth Hall