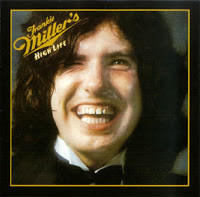 A Long Way Home. Frankie Miller
'Long Way Home' is Frankie Miller's first new album for twenty years. I've been listening to it and reflecting on his life whilst I recover from a back injury suffered when a wave rolled over me in India. I've known Frankie since he was in 'The Stoics' a Glasgow band that moved to London around 1970,changed their name, played the Isle of Wight festival and split up quite soon afterwards. The Stoic philosophers who expressed the idea of enduring suffering without complaint may not have had in mind the dangers of getting up to sing in a Glasgow pub but there at least they were in the right area. In fact Frankie ended up singing in a London pub in Kentish Town called the Tally-Ho where a lively mix of Scottish roadies and Irish builders had chosen to congregate and drink. They were part of an old story. When Scottish and Irish immigrants had traveled first to England, and later America they brought with them their songs and melodies, and when they met the music of early Afro-American blues it created a mix, which is the basis of pretty much everything we think of as popular music today.
A typical example was 'The Unfortunate Rake' a funeral song that first appears in Cork in the 1790's, first written in the 'Irish Musical Repository' of 1808. It reappears in England in the mid-19th century as 'The Buck's Elegy' or 'The Unfortunate Lad' a cautionary story about the lethal dangers of sexually transmitted diseases, and the same song later appears in many different variations, 'a Trooper cut down in his Prime' or 'a Sailor cut down in his Prime' or even 'a Young Girl cut down in her Prime'. They share the common theme of young people deprived early in life by such dangers as drink, gambling or simply ill health, and what goes with those risks and losses. The song becomes in America both a cowboy classic titled 'The Streets of Laredo' and the jazz classic 'St James Infirmary'.
Nick Tosches has followed many of these connections in his book 'Country' if you want to know more. As he tells the story, words and melodies flip flop backwards and forwards between country and blues. This history shaped every part of the music, indeed one of Frankie Miller's greatest influences Ray Charles had himself yodeled in a hillbilly band the' Florida Playboys', long before his greatest r'n'b innovations and success, and long long before he recorded one of Frankie's most enigmatic songs "I Can't Change It".
In the 1970's I saw Scottish soul meeting the deep south yet again when Frankie joined Allen Toussaint to complete the writing of his 'Highlife' album in New Orleans, later to be recorded in Atlanta. Frankie's passionate and whole-hearted singing inspired that unfailingly courteous and charming southern gentleman who had spent his life steeped in the rhythm and blues of New Orleans. Communication and mutual respect were instant, and whilst Frankie sweated away day after day in an unaccustomed heat and humidity, with the ever-cool Toussaint, they added yet more to the thread of that dna which links our music consciousness to those early pioneers. 'Shoorah Shoorah' which wasn't a hit for Frankie, was for Betty Wright, which in the mid-80's Pauline Black of ska band 'the Selecter' covered, and indulged me by allowing me to direct the promo in a garage in south London which passed, at least that day, for the French Quarter. The migration has been constant Van Morrison, Joe Cocker and the Average White Band all made that same journey, sharing musicians and friendship and a common purpose with each other.
Frankie wrote and recorded many songs and albums over the following years and toured a good deal before being stricken by a brain haemorrhage in New York in 1994.It was a terrible tumble. Our paths had crossed throughout a lot of this and there is plenty to say, never mind all the stories I could tell, but also a great many musicians have come forward with their own testimony. What are we to make of his story? Well the music is all there to be listened to. I think of what Van Morrison called 'the secret heart of music' (or was it 'the sacred heart of music'?) that place where the long threads of the genetic code of notes and words forms itself into the body of our music. It's a place where most music traditions at their core find some common ground if they are performed with proper reverence and belief. Its within that place that musicians, in my experience, really feel the need to connect, to participate, to belong, and its to that body of music they must add in order to feel they have really and truly testified. Listening to the title song 'It's A Long Way Home' reminds me more forcefully than ever that whatever else has happened Frankie Miller has done that.
Listen to 'It's A Long Way Home'
http://www.dougdarcy.com/wp/wp-content/uploads/2014/01/miller-hl.jpg
197
200
admin
http://www.dougdarcy.com/wp/wp-content/uploads/2018/06/dougDarcyLatoWhite.png
admin
2009-11-26 11:04:00
2015-03-23 22:48:51
A Long Way Home. Frankie Miller